ESPACIO DERIVA
···Barge of Art and Technology
a common horizon
cooperation + co-creation
to reformulate a sustainable future
---
A LIVING LABORATORY TO EXPLORE
---
A NEW MUSEUM IN EVERY CITY-PORT
---
A SHARED DEVISE FOR CLIMATE ACTION
---
A BARGE FOR THE CONSERVATION OF OCEANS

---
A BUOY FOR ECOLOGY, CULTURE AND COMMUNITIES
---
A FLOATING SPACE FOR EDUCATION AND RESEARCH
---
ART + TECHNOLOGY + CLIMATE ACTION
a floating platform in symbiosis with seas
︎ anthropocene ︎ resources ︎ new ecologies ︎ global warming ︎ marine wildlife ︎ environment ︎ aesthetics ︎ eco-politics ︎ contemporary art ︎ activism ︎ biology ︎ equality ︎ environmental architecture ︎ species extinction ︎ waste management ︎ new materials ︎ biodiversity ︎ aquaculture ︎ oceans ︎ ecosystems ︎ landscape ︎ mobility ︎ pollution ︎ glaciers ︎ expeditions ︎ aerothene ︎ philosophy ︎ fishing ︎ culture ︎ currents ︎ sealevel ︎ sounds ︎ ocean science ︎ geopolitics ︎ education ︎ research ︎ music
With an urgent need to face an update of environmental, social, and political issues to achieve a sustainable co-living, new ideas and projects appear, such as the creation of spaces that engage nature and culture with the richness and uniqueness of the different communities.
·

Movement and migration are both a universal constant, from water currents to tectonic plates or living species, everything in this world is continuously moving adrift and there is nothing fixed or static. This is the principal basis of
Espacio Deriva (B·o·A·T)
, a new concept-space in motion, a European shared building that promotes sustainability, democracy, and inclusiveness by connecting people and cities to navigate towards a common horizon.
·
A living organism in symbiosis with water landscapes -
seas, coastal cities, and rivers
- and ports ecosystem, a common tool for the study of climate and for the conservation of the seas and marine wild life, where
arts, technology and science
activate environmental commitment and educational experiences. A floating agora in continuous movement and transformation that facilitates the encounter and the interrelationships to stimulate a culture of solutions and devise new ecological models, replacing competition by cooperation and turning the individual intelligence into a collective one. Like a plug, it connects us to the contemporary thought that flows in our pluriverse of contexts and cultures.
·
A
shared
and
open
device to the exchange of ideas, knowledge, and projects that contribute to the creation of bridges so together we can reformulate a better and sustainable future.
·
With more than 300 ports and established maritime shipping routes, European coastal regions and navigable rivers are thriving locations to develop new types of - innovative, revulsive, sustainable, inclusive, and beautiful - projects that can make specific and more tangible connections between European city-ports.
·
We are living in a crucial moment when the point of no return is getting closer and we must achieve the Green Deal goals as soon as possible. Espacio Deriva wants to join this common effort by creating a pioneering and
passive
barge-building, a sustainable solution built with a light environmental footprint and recycled components. Run with solar power to nurture its activities, it will be constantly taking information about weather, water, seas, and marine ecosystems like an
intelligent buoy
. Espacio Deriva is also an
active
barge, a European "living laboratory" that will be relocated by a solar power tugboat through its journey program called
ROUTES
.
·
See
European Atlas of the Seas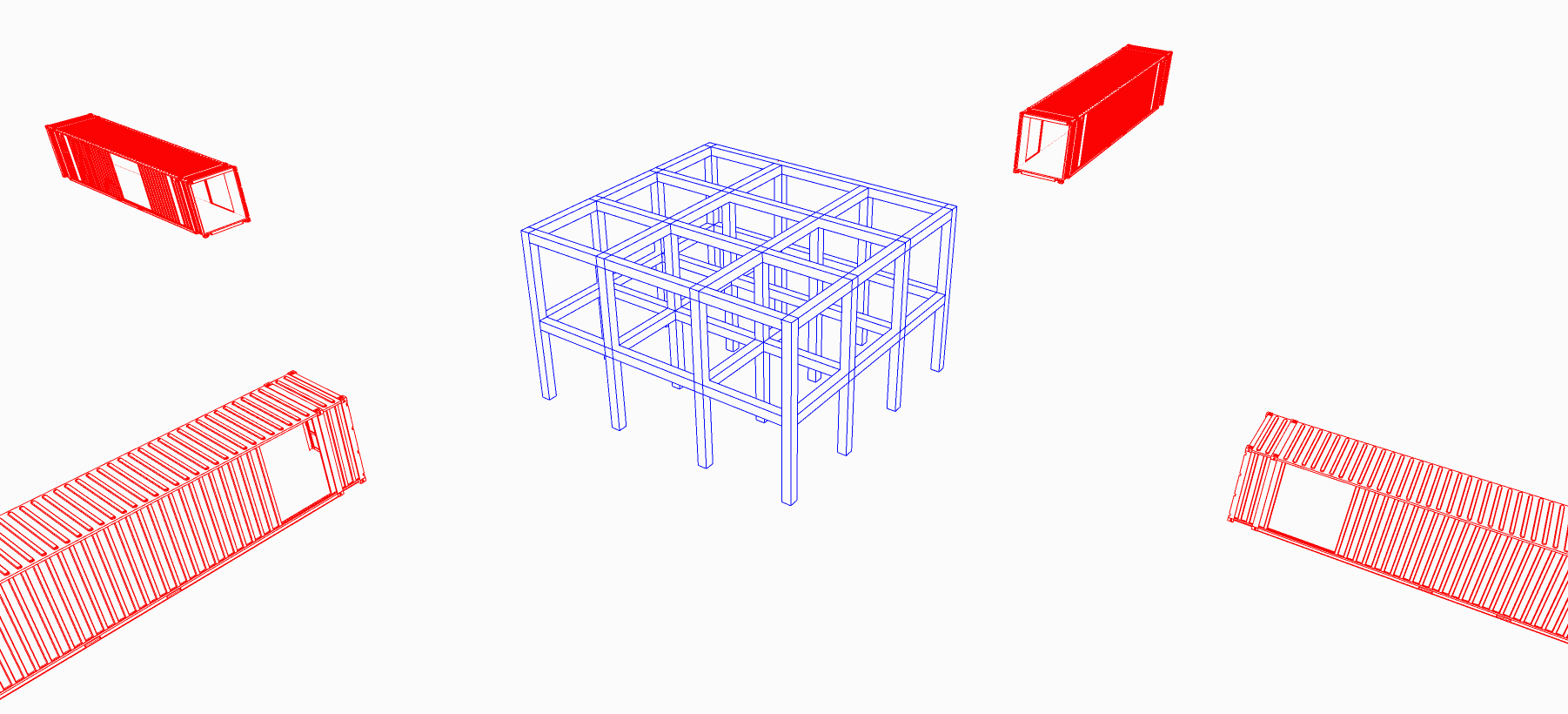 ·

A living building to explore new worlds on every journey.It goes further with global actions and with ample
spatial flexibility
. Espacio Deriva is symbiotic and metamorphic, adapted to each project and event, given its construction by modular components, systems, and mechanized body with base-mounted jib cranes, which allow fast transformations and facilitate the staging; always new and ready to the release. The
shipping containers
are assembled in different ways, modifying the whole shape and becoming laboratories, exhibition spaces, workshops, lecture rooms, or even a new cafe.
·

Its intelligent and connected/-ing profile offers a three-dimensional interface where cultural and environmental projects have a platform to spread, exhibit, educate, research and innovate. Digital experience predominates with constant broadcasting of the new creations of the audiovisual ecosystem through its 4-side large modular screens. Espacio Deriva becomes discovery, expanded education and gamification by turning ideas into a call for environmental commitment. An epicenter for renewed critical thinking and common engagement for climate action.
·